With Halloween here, a lot of people are going to be torn between the angel on one shoulder and the devil on the other.  It doesn't have to be a struggle as long as you are prepared.
So here is some Halloween survival tips: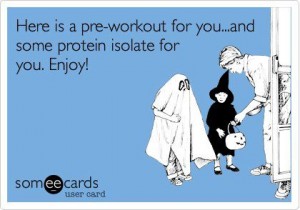 Don't go into the actual night hungry.  Fill up on veggies and protein so you don't let your hunger get the best of you.
WORK OUT-  workout hard on Halloween!
Buy candy to hand out that you DON'T like.  Don't buy your favorite candy, that is just a recipe for disaster.
If you are handing out candy make a bowl of popcorn to munch on so that candy doesn't call your name as loud.
Chew gum while trick or treating or handing out candy that way the mindless eating can not occur.
THINK before you eat.  It happens all to many times, you eat one piece and without thinking and before you know it there is a mound of candy wrappers in front of you and you have no idea how they got there.
After Halloween, put the candy out of sight.  Don't put it in the very front of the pantry or on the kitchen counter and for gods sake don't feel guilty about throwing it away.
Here are some "better" choice candy.  Using the word "better" when referring to candy is kind of an oxymoron because candy is full of sugar and not good for you .  PERIOD!
Eat the dark chocolate (72% or more Cocoa) – the only candy I truly advocate.
Mini candy bars – less is more when it comes to candy
York Peppermint Paddies – 3 minis have 150 cal and 3 grams of fat
Tootsie Rolls
Peanut M&M's (snack size bag) – at least it has protein and more likely to fill you up
NOW keep in mind besides the dark chocolate, I don't believe any of these are good for you or should be consumed in large quantities.  I however am realistic in thinking that the majority of people will eat candy this Halloween no matter what I say or believe.   Keep in mind that sugar is highly addictive and makes you more hungry.  Once you eat candy, your body craves more.
While I give you the better alternatives to binging  out on candy, here are the effects that sugar has on ones body:
Can decrease growth hormone (the key to staying youthful and lean)
Feeds cancer
Increases cholesterol
Can weaken eyesight
Can cause drowsiness and decreased activity in children
Can interfere with the absorption of protein
Causes food allergies
Contributes to diabetes
Can contribute to eczema in children
Can cause cardiovascular disease
Can impair the structure of DNA
Can cause hyperactivity, anxiety, difficulty concentrating, and crankiness in children
Contributes to the reduction in defense against bacterial infection (infectious diseases)
Greatly assists the uncontrolled growth of Candida Albicans (yeast infections)
Contributes to osteoporosis
What are you going to have to do to work off that candy? Great question. Here are some quick stats from qcheakthnews.com:
5 miniature Milky Way chocolate bars, 190 calories | 28 minutes of a zumba class
4 miniature Snickers chocolate bars, 170 calories | A brisk walk with the dog for 50 minutes
7 miniature Three Musketeers chocolate bars, 170 calories | Swim for 22 minutes
3 miniature Twix chocolate bars, 150 calories  | Run at a moderate to strong pace for 10 minutes, or jog for 20 minutes
20 pieces of candy corn, 150 calories | Hit the stair climber  for 25 minutes
1 piece of licorice, 70 calories | 25 minutes of yoga
1 Fun Size M&M packet – Plain or Peanut, 90 calories | 10 minutes of bike riding
1 piece pumpkin pie (1/8 of 9-in pie), 180 calories | 1.8 mile walk or 3600 step