Legs have always been a challenge for me because I have knee problems.  It's pretty known in the fitness world that it's pretty close to impossible to do a good leg workout without doing squats or lunges.  Building your quadriceps will most definitely  help and take the weight and some pressure off your knees.  Once you build your quads it will be easier on your knees when you do things like squats or lunges.  I still struggle with lunges and are selective about what kind and how much I do them.   I have always had very big thighs and calf's so these are the muscles that build the fastest and biggest on me.  Everyone is different but if you do these exercises, they will strengthen, tighten, and give you nice legs.  The awesome thing about these are you don't even need to go to the gym to do them!
SO here are some exercises you can do in your living room or even while you watch tv to help build strong sexy muscular legs.
Lunge: Start without weights and progress to holding weights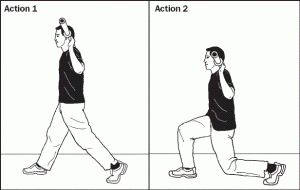 Wall Squats:  You can do with or without the ball.  For more of a challenge add hand weights.  If you have bad knees just sit in the hold and do not go up and down.  Hold for 40 seconds and stand.  Repeat.
Plie squats (love them):  spread legs apart in a plie stance and raise up onto tip toes and repeat.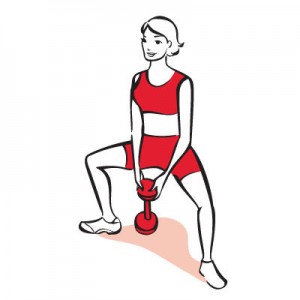 A normal squat:  You can add dumbbells or even barbell if you have them.  Do not let your knee extend over your toes.  Sit into the squat don't lean.
Bulgarian split squat:  A more advanced move and one I have a love hate relationship with.  You WILL feel the affects the day after 🙂  Start slow and do it without weights first.